Here everything's like nothing else
PONTOGLIO 1883
Since 1883 the name PONTOGLIO has been associated with velvet, a high quality, luxurious fabric made with style in Italy.
Between the white walls built on the north bank of the Oglio river in Lombardy, PONTOGLIO's production plants and offices have resided here for over 130 years. In this sacred space, five generations of people have been working non-stop, handing down tradition and experience.
Sustainability and attention to the environment are always top priorities at PONTOGLIO. In compliance with the Mrsl ZDHC protocol, the Italian manufacturer provides only the highest quality fabrics to leading global fashion and furniture brands.
In 2017, PONTOGLIO launched its PONTOGLIO 1883 LIVING & LIFESTYLE collection which includes high-quality decorative pillows, quilts and furnishing accessories that are made entirely in Italy and showcase exquisite Italian design and craftsmanship.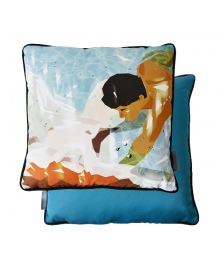 Sale